Art

We are excited to announce Fall registration for Hill House programs opens on May 30 for members and on June 1 for non-members.
Browse our fall offerings: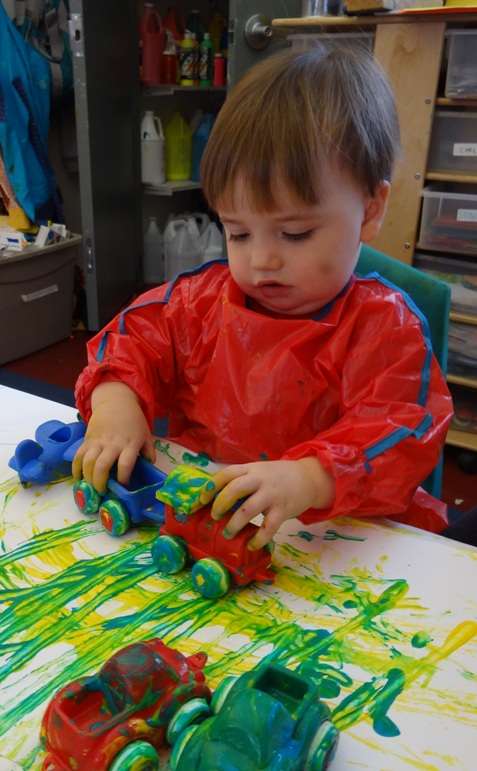 Art for the Toddler Heart (19 months-3 years)
In this class we will hop into art-making with both feet! Toddlers will practice decision-making skills, observing and choosing the way colors mix. Projects connect with the knowledge of the outside world that toddlers are beginning to explore! Creative, hands-on activities will develop coordination, fine motor skills, sequencing and arranging abilities and awareness of colors, shapes and textures.
Register now: Mondays at 10:15 Thursdays 11:15 Thursdays 9:15
Art Travelers (3-5 years)
Curious about other countries? Dying to make structures like the Eiffel Tower Itching to introduce your little artist to famous works from the Impressionist and Renaissance periods? Join us in the art room to discover the different styles, techniques and places of Europe. Focusing mainly on Venice and Paris, we will use watercolors as we explore the Venetian canals, make sculptures that mimic famous buildings and use oil pastels as we learn how to sketch skylines of far-away spaces. All participants must be potty-trained.
This program taught Jenn Sherr.
Register now: Tuesdays at 3:30
Beyond the Paintbrush (12 months-3 years)
Join us on an exciting journey as we experiment with different ways of painting with different kinds of "paint"! We will get wildly creative with things you can find around the house; sandpaper, rubber bands, straws, bubbles, balloons and even our feet! Students will observe how colors blend and textures are created producing beautiful, abstract works. This class encourages invention, exploration and creative thought.
Register now: Wednesdays at 9:15 Wednesdays at 10:15
Cozy Crafts (6-8 years)
This five week workshop will focus on how to make all sorts of crafts! The class will use yarn to practice sewing patterns into plates and weaving their own jewelry as well as work with felt to create monstrously
Register now: Thursdays at 4:30
Families Create Together (18 months-4 years)
While the aim of the art room is to build community, this class will strive to encourage siblings to learn about their creativity in the same environment! Little artists will explore hands-on multiple stations in the art room and work together to learn about the blending of colors, feel of different textures and the process needed to create beautiful works of art.
This program taught by Jenn Sherr.
Register now: Tuesdays at 4:30
Hands-On Art & Self-Expression (19 months-3 years)
One of the most intriguing ways that youngsters express themselves is through art. As children draw, paint and make collages, they are learning about the world. Toddlers are not yet consciously aware of color coordination and spatial relationships, but art can give them a sense of these areas in this stage of their development - and this is only the beginning. Art provides another much-needed outlet for budding young minds, and at the same time it teaches important skills as they express themselves through the use of different materials. With all of these benefits, it's easy to see why encouraging toddlers to be artistic is so important: join us in the art room as we use a rainbow of colors, clay, paint, paste and so much more to pique your child's curiosity and creativity in this exciting multimedia program.
This program taught by Jenn Sherr.
Register now: Tuesdays 9:15
Little Hands Create Art (12-18 months)
This art class encourages messy sensory exploration! Sing along with your instructor while splashing in the water table, arranging shapes on the light table, sifting through bits in the sensory table and experimenting by running car wheels through paint. A balance of free play and teacher-directed projects introduces children to the "process" of creating art, enhancing their own creativity and keeping them learning as they touch, move and listen to all that this Reggio Emilia-inspired classroom has to offer.
This program taught by Adriana Donohue
Register now: Fridays at 11:15
Mundo de Colores (12 months-3 years)
Art projects and crafts will help your little one learn simple Spanish phrases and colors. Mundo de Colores promotes development of hand-eye coordination, visual and fine motor skills, sequencing and arranging abilities, awareness of colors, shapes, shades, textures and decision-making techniques. This description also found in the foreign language offerings.
This program taught by Adriana Donohue.
Register now: Fridays at 9:15
Open Art (1-4 years)
Free for members; drop-in.
Enjoy doing arts & crafts without the stress of a weekly commitment! This is a great opportunity to meet new kids and families in the community. Under our warm creative art staff's supervision, you and your child will get a taste of all the Hill House art program has to offer.
This program facilitated by Emily Ellis.
Register now: Mondays from 1:00 to 3:00 Fridays from 1:00 to 3:00
Paint by Letter (2-3 years)
This class will encourage your artist's creativity with the use of some of their favorite books. Each session will focus on a different letter, and use a series of different books to help your little one to recognize how to form those letters. We'll use Dr. Seuss' The Lorax to learn the angles of the letter L, round the curves of the letter B in Eric Carle's Brown Bear, Brown Bear, What Do You See? and see how all of the letters interact with Chica Chicka Boom Boom.
This program taught by Jenn Sherr.
Register now: Tuesdays at 11:15
Scribble & Squish (12-27 months)
Wonderful, hands-on, messy art! Children and caregivers will experiment with a variety of mediums and materials. This class serves as a strong outlet for sensory, attention span and social sill development. Plus - participants will have lots of fun exploring substances, colors and all the squishy, gooey-messy stuff kids love to get their hands on. Come ready to create!
Register now: Mondays at 11:15 Wednesdays at 11:15 Thursdays at 10:15
Time to Clay (5-7 years)
This 5 week program will give the building blocks of using clay! We will learn to manipulate different types of clay to make beads, structures, sculptures and more. Each of these projects will encourage each student to bring their creativity to life in 3D!
Register now: Thursdays at 4:30 starting on October 12
Toddler Art Creations (19 months-3 years)
Join us in the art room for a class that will challenge your child to expand their creativity. Your toddler will create basic sculptures to help refine their motor skills, arrange shapes on the light table to give a better understanding of sequencing, learn about textures as they're using markers on different materials and, of course, experience the messy fun of choosing their favorite colors to put the final touches on the art projects they have created on their own.
This program taught by Adriana Donohue.
Register now: Fridays at 10:15
Toddler ArtVenture (19 months-3 years)
Toddlers are bursting with creativity and we are here to help them channel it! Using stimulating and entertaining activities that will allow them to explore all areas of the art room, your child will further expand their understanding of the process of art. As your artist begins to refine motor skills at the art table, uses markers on different materials to observe the varying results and creates their own basic sculptures, they will also be creating a sense of community within the classroom to encourage them to make new friends and discover the importance of collaborating in the art room.
This program taught by Jenn Sherr.
Register now: Tuesdays at 10:15
---
Interested in all of our enrichment program offerings?
Visit our programs page to see all of our classes!