The Boston NFL Flag Football League
***All details regarding program structure are dependent upon the progress of phases for COVID-19 re-opening in Boston and MA. Live programming will involve all latest health and distancing guidelines, with the potential of transitioning to virtual sessions. All measures will be implemented based on the most up-to-date guidelines provided from state and local officials.***

View the video overview of the revised 2020 Safety Guidelines and protocols for the Boston NFL Flag Football League

COVID Parent Waiver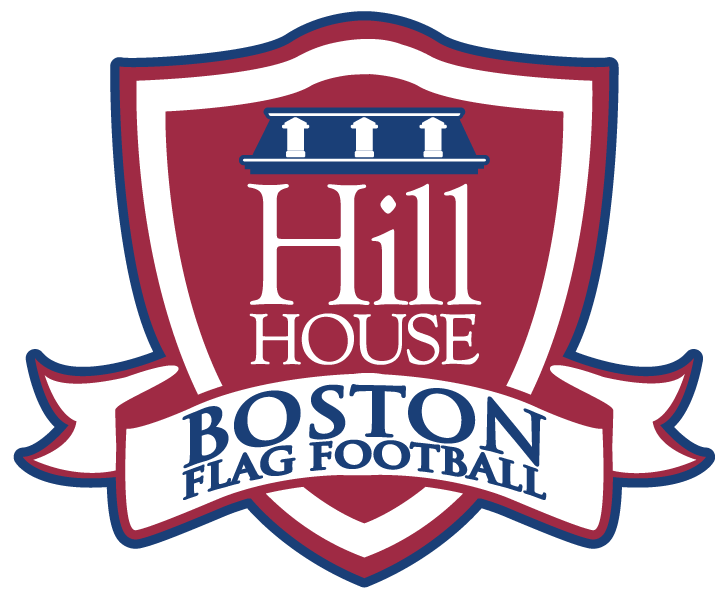 - Register Here -
Overview
For over 50 years, Hill House has run quality athletics programs for children in the Boston area. Starting in September, 2018, Hill House hosted the inaugural Boston NFL Flag Football League, an officially licensed NFL Flag program. Flag Football is a non-contact version of football, allowing for skill development and fun. All teams and leagues are co-ed and take place on Sunday mornings in Boston from September-November. The league is open to children city-wide and we've welcomed teams and players from all neighborhoods of Boston.
League format - 2020
The Boston NFL Flag Football League will comprise of the following leagues. All grades should be correct as of September 2020.
All divisions will be run as instructional clinics, without games, for the fall 2020 season, pending further guidelines by state and local officials.
*All times and leagues are subject to change depending on registrations. All grades must be correct as of Fall 2020.
What to expect
When not restricted by guidelines (such as for the fall 2020 season) All players will receive a reversible NFL team branded jersey and an NFL Flag belt. The season will be nine weeks long and teams will have a chance to practice as well as playing games. Sneakers (instead of cleats for turf field) should be worn as well as your team jersey and belt each week.
The season will include a regular season and playoff games and is scheduled for the following dates:
September 13, 20, 27, October 4, 18, 25, and November 1, 8.
Registering as a team or individual
You can register either as an individual player or as a player as part of a current or newly forming team. As an individual, simply register as normal and the Hill House staff will assign you an age appropriate team. If you are registering as a member of a team, please enter the name of your coach or team when you are prompted in the registration. Each team will need to assign one or more team coaches. All coaches will have to make themselves know to the Hill House staff and will receive an information pack prior to the start of the season as well as agreeing to the nationwide NFL Flag terms and conditions. If you would like to be a coach or an assistant for the season, please contact Athletics Coordinator, Joshua Oliver, at joliver@hillhouseboston.org
Once registered through Hill House, players complete the online NFL Flag player participation agreement by selecting the Hill House Boston NFL Flag league from the drop down menu.
Location and Transportation
The Boston NFL Flag Football home will be Clemente Field. Next to Emmanuel College in the Back Bay, this recently renovated all-weather NSCAA regulation turf football field is easily accessible via car and public transportation.The field is located on Park Drive, Boston, 02215. Through public transportation, the fields can be accessed via the green line (Museum of Fine Arts stop), orange line (Ruggles stop) and commuter rail (Yawkey Way stop).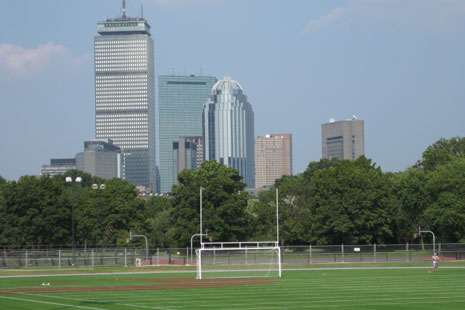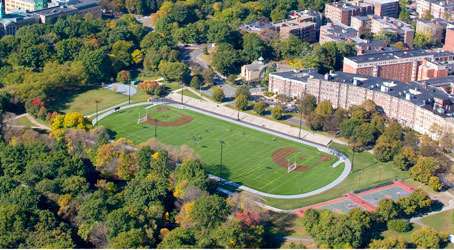 Safety first!
The growth of Flag Football has been partly due to the expanded knowledge of concussion in football. This will be a non-contact version of the sport with all the passing, catching and strategic skills intact. We highly recommend the use of mouth guards to players as well as championing fair play and sportsmanship. All coaches must pass a concussion awareness certification (as well as background checks) and trained CPR and First Aid staff will be on site at all time. Players should also opt to wear sneakers over cleats for this turf field.
Game format (fall 2021 season)
All games will be 5-on-5, we recommend 8-10 players per roster.
There will be two 20 minute halves with a 5 minute half time.
Fields will be approximately 25x60 yards.
Referee decisions will be final.
Official Boston Flag Football League Store
| | |
| --- | --- |
| All players will receive a reversible branded team jersey and flag belt included in registration. For eveything else, there is a store to gear up for the Boston NFL Flag Football League-- order hoodies, tops, shorts, and more! All official items can be found on SquadLocker. | |
Get involved... Interested in coaching a team to success this fall? We are looking for volunteers to coach teams, if you think you can be a positive role model, please contact our Athletics Coordinator, Joshua Oliver at joliver@hillhouseboston.org
The Boston NFL Flag Football League is seeking corporate sponsorship, for more information please contact our Marketing & Development Director, Meredith Adamczyk, at madamczyk@hillhouseboston.org
Positions as game day staff (coach, oversight, and referees) are available. Please apply to our Athletic Director, Marshall Caldera, at mcaldera@hillhouseboston.org
---
Interested in all of our athletics offerings?
Visit our athletics page to see all of our classes!
Questions?
Email our Athletics Coordinator, Joshua Oliver, at joliver@hillhouseboston.org