About Hill House
Generations of administrative staff and volunteer leadership have cultivated a sense of urban community through Hill House's programming, outreach, and neighborhood events.
---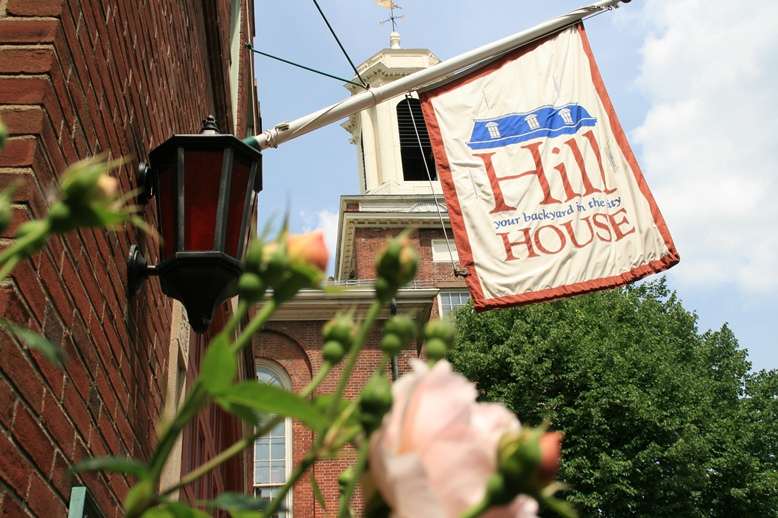 Perhaps you've visited 127 Mt. Vernon Street for a stack of pancakes, to volunteer at a senior dinner or to find the perfect Christmas tree. You might know someone whose children grew up attending Hill House's programs and summer camps; or maybe you remember Hill House as a part of your own childhood.
The community center has grown a great deal since its formation in 1966. Hill House's Mt. Vernon and Joy Street buildings, both located in the heart of Beacon Hill, offer programs of athletic, creative and intellectual nature to children ages newborn to 12 years. For families who reside in Beacon Hill, Back Bay, West End and other downtown neighborhoods; Hill House offers the type of youth activities normally available only to residents of the suburbs. 2,000 children enroll in Hill House Programs each year. While early childhood classes are the organization's most well-known and heavily-populated programs, Hill House continues to promote community involvement through monthly senior dinners, outreach and seasonal events. The Hill House Soccer program, which summons volunteer coaches to lead over 500 players, has grown to be Boston's largest organized fall soccer program. Each Saturday morning of the fall season, Teddy Ebersol's Red Sox Fields on the Esplanade fill with an eager group of kids learning to play while being introduced to ideas of sportsmanship and teamwork. Both internally and through philanthropic focus, Hill House encourages families to give back. The Hill House Outreach Program (HHOP) promotes community involvement through donations of time and assets to various nearby non-profits with a focus on serving women and children in need.

Hill House's scholarship fund makes programs affordable to any candidate. Over $250,000 in scholarship funding has been awarded to children residing in the Greater Boston area since 1966.
A Glimpse into the Past
Hill House is, and always has been, a community effort. Neighbors residing in the Beacon Hill area sought 45 years ago to promote a sense of community among the residents of this very unique Boston neighborhood. Now a resource for more than 1,500 families each year, Hill House's mission remains the same.

The community center was incorporated in the spring of 1966 at 74 Joy Street. It was at this location that the organization and its mission began to flourish. In 2001; following a donation by Mayor Menino and the City of Boston, countless campaign efforts and 3 years of renovations, the Mt. Vernon Street firehouse opened its doors as Hill House's new and improved central building. Growth and development following the move were exponential.


The building's main staircase bares brass plaques engraved with the names of those whose donations deemed them members of the Firehouse Brigade. Hill House's existence and success is a result of well-recognized programming and the generosity which that programming has encouraged. The community center promotes a cycle of giving.
We look forward to seeing you and your family around the neighborhood!
---